Recently I have been re-installing my home lab due to the 60 day trial license coming to an end and discovered something odd. During the installation of vCenter 5.5 on Windows Server 2008 R2 SP1 I came across the following error: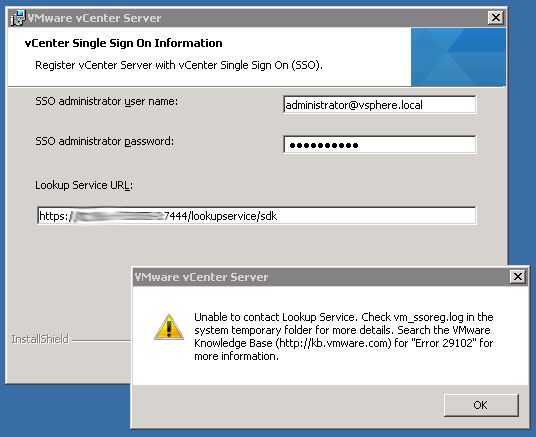 Unable

to

contact

Lookup

Service

.

Check

vm_ssoreg

.

log

in

the

system

temporary

folder

for

more

details

.

Search

the

VMware

Knowledge

Base

(

http

:

//kb.vmware.com) for "Error 29102" for more information.
The solution was rather simple but not straight forward to work out initially. My internal network ID for VMware hosts is 10.10.0.0/24 but what I was missing is the corresponding rDNS zone in my DNS (reverse). The minute I have created 0.10.10.in-addr-arpa the error went away. What makes this even stranger is the fact I have to redo my lab every 60 days and this is the first time this error has come up!